About Stephanie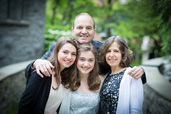 Stephanie Cleary is passionate about helping families. She is an International Board Certified Lactation Consultant (IBCLC) providing home visits to families in Serving parts of lower Fairfield County, CT and Westchester County, NY. She finds great joy in providing breastfeeding support to mothers and their babies.

Stephanie lives in Greenwich, CT with her husband and two daughters. Her understanding of breastfeeding is enhanced by having breastfed her own children and the positive experience she and her children shared.
---

Stephanie is a La Leche League Leader. La Leche League Leader volunteers are experienced breastfeeding mothers accredited by La Leche League International. Leaders know the importance of one mother helping another to recognize and understand the needs of her child and to find the best means of fulfilling those needs. Leaders provide information and support so that each mother can make the decisions which are best for her family. Check out the Greenwich/Stamford group.
---

The Westchester/Putnam/Rockland Lactation Consortium Inc. is a voluntary group of health professionals organized in 1990 to protect, promote, and support breastfeeding in the tri-county area.
---

Hudson Valley Birth Network is a consortium of professionals who work with women and families around pregnancy, birth, postpartum and parenting regardless of race, gender, creed, sexual orientation, birth preferences and reproductive pathways.
Hudson Valley Birth Network provides its members with the opportunity for networking, mentoring, education, advocacy, support, access to resources and professional enrichment.
Hudson Valley Birth Network provides those we serve with information, resources, education, support, access to health care professionals, advocacy and community. ​
---

NYLCA is a professional association for Registered Lactation Consultants in the New York Metropolitan area. Our mission is to build professional recognition for these consultants and their services.
---
Stephanie was quoted in the news:
International board certified lactation consultants (IBCLC) help mothers with:

•Prenatal breastfeeding assessment and counseling
•Positioning and latch of an infant
•Prevention and management of maternal concerns such as breast pain and engorgement
•Establishing and increasing milk production
•Premature babies
•Infants with neurological deficits or physical disabilities
•Suck difficulties that interfere with breastfeeding
•Confidence to breastfeed for as long as mother and baby want
•Breastfeeding-supportive measures when mother and baby are separated due to work, medical, or educational issues
International Board Certified Lactation Consultants (IBCLC) are:

•The only internationally recognized health care professional who specializes in lactation care
•Recognized the world over as possessing the only standardized, board-certified lactation credential available
•Knowledgeable about up-to-date evidence-based practices in lactation as demonstrated through a rigorous exam process
•Experienced in a wide variety of complex breastfeeding situations
•Competent to assist mothers with establishing and sustaining breastfeeding, even in the midst of difficulties and high-risk situations that can arise
•Sensitive to the needs of both mothers and children as they work to help mothers meet their breastfeeding goals
•Ethical in their practice, abiding by Standards of Practice and a Code of Ethics and working within a defined Scope of Practice